breathe free
arced have designed a reusable panel for construction hoardings that mitigates dangerous nitrogen dioxide pollution from building sites. Coated in titanium dioxide, a wonder compound that transforms the pollutant into harmless nitrates, they protect passers-by and local residents. The articulated surface increases the surface area available for the coating and the cleaning power. The design quotes the leaves of common street trees, alluding to the panel's purifying effect.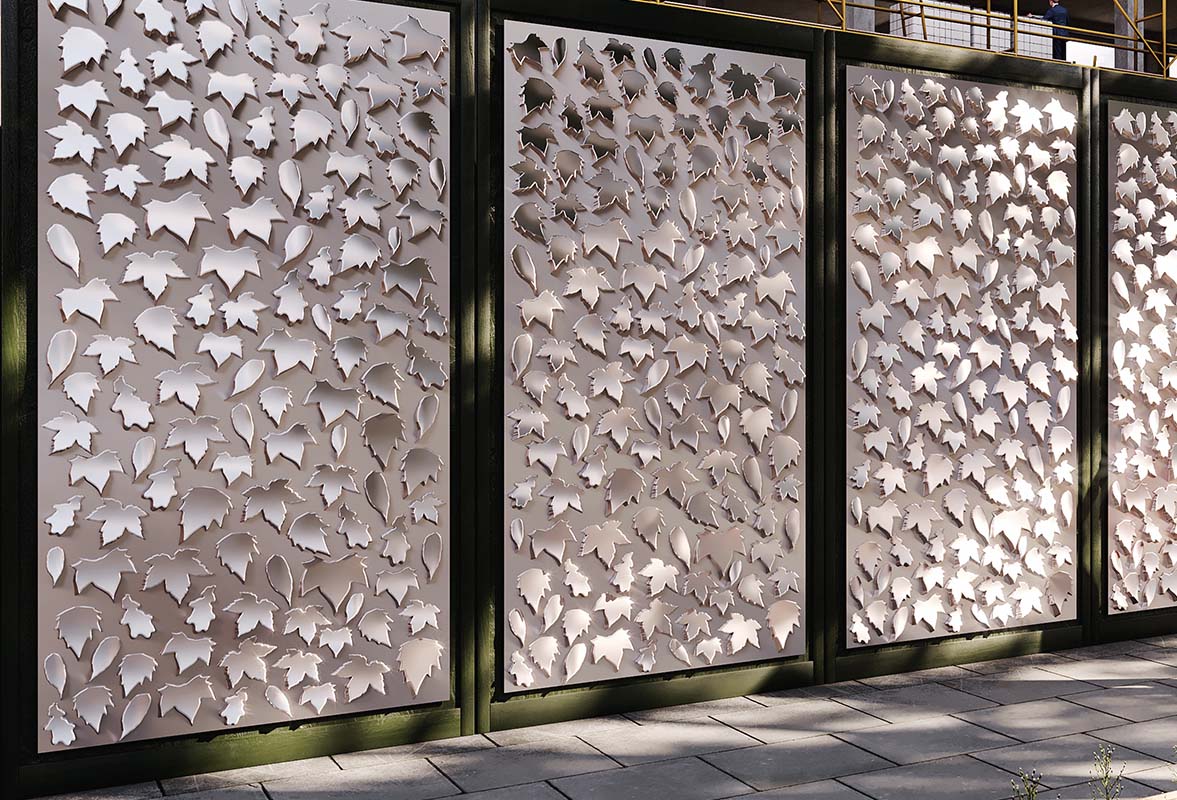 sparks
arced designed a co-learning space in Sparks Bristol, an innovative hub of sustainability, creativity and education in the former Broadmead M&S store in the city centre. The space features a new design for tessellating tables which can stand alone or form an array of group configurations for collaboration. Dry wipe tops let students and educators get creative. Designed for education innovator City as a School, the co-learning space is linked by technology to their other proposed locations, and features an AR projection suite.
re-think
re-think is a partition kit to subdivide existing spaces, transform their use and give them new life. With cores of recycled textiles, the tubes divert waste from landfill and create chromatic spectrums. Filled to different heights, they create varying levels of transparency and seclusion. Originally conceived for learning environments, the concept is currently being further developed with Paris based architect Cyprian Chojnacki for retail clients. With integrated display systems, the partitions can also display products for pop-ups or in department stores.
the earth school
the earth school explores two new technologies. Collaborative AR enhances the programme and the school experience. It projects virtual peers into the campus, building friendships that span catchment areas and borders. 3D printed earth is a revolution for construction. Excavated on-site, this is a truly sustainable material, with no carbon footprint from manufacture or transport. The technology allows for fluid forms, creating a non-heirarchic environment.



information
Hugh Gatenby founded design studio
arced
in 2020. Hugh is an alumnus of the London School of Architecture and a fellow of Create Streets. He has worked for Homes England, and infill developer Caswell&Dainow. He has also worked for architecture practices in London and Paris.
sustainable cities and communities: responding to climate breakdown and biodiversity loss is a priority for arced. The studio prioritise retrofit to reduce embodied carbon. The latest innovations in green technology are pursued to improve on the status quo.
quality education: arced specialise in the architecture of education. Today's education shapes tomorrow. If learning environments are the 'third teacher' alongside educators and peers, these spaces are crucial to achieving a sustainable future.
good health and well-being: with 90% of our time spent indoors, arced prioritise healthy buildings. A studio style of fluid layouts allows air to circulate and light to spread. arced's plans are designed to encourage movement and exploration, for both cognitive and physical benefits.